Experience the power of Viagra for free: Get your complimentary Viagra sample!
Viagra is a popular medicine that treats Erectile Dysfunction (ED) in males.

It is a safe and effective medicine with an efficacy rate of 91%. But it may cause adverse effects.

Headache is its most common side effect. About 25% of males report headaches after taking Viagra.

This article will discuss the causes of a Viagra headache. It will also elaborate on prevention tips and treatment options for Viagra headaches.
Table of Contents
How Viagra works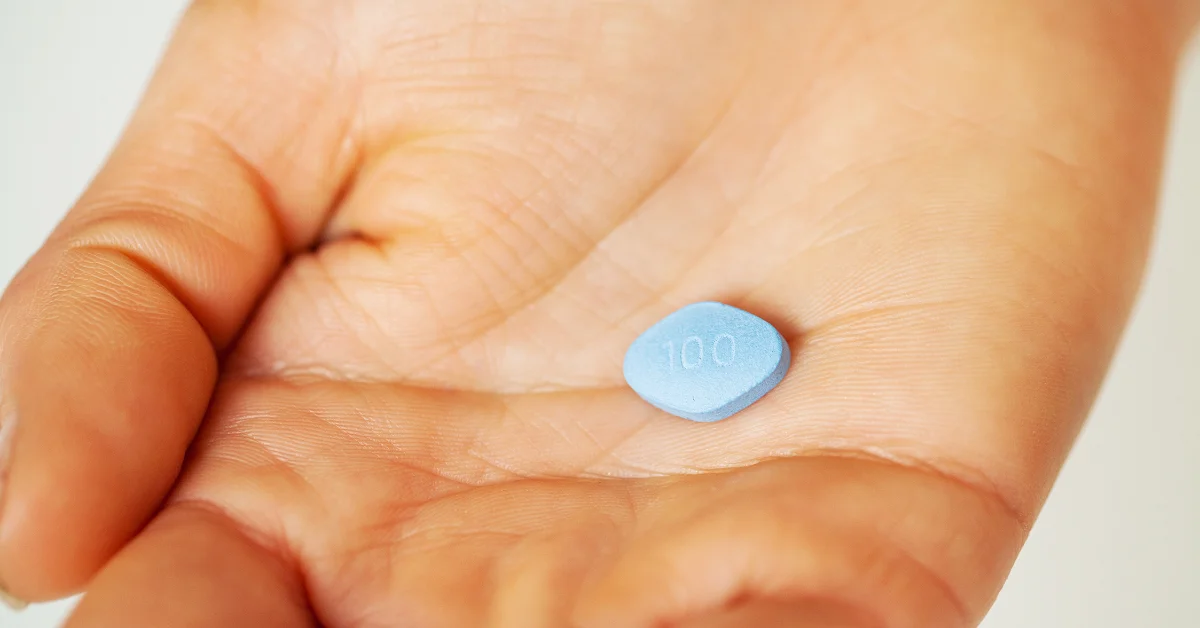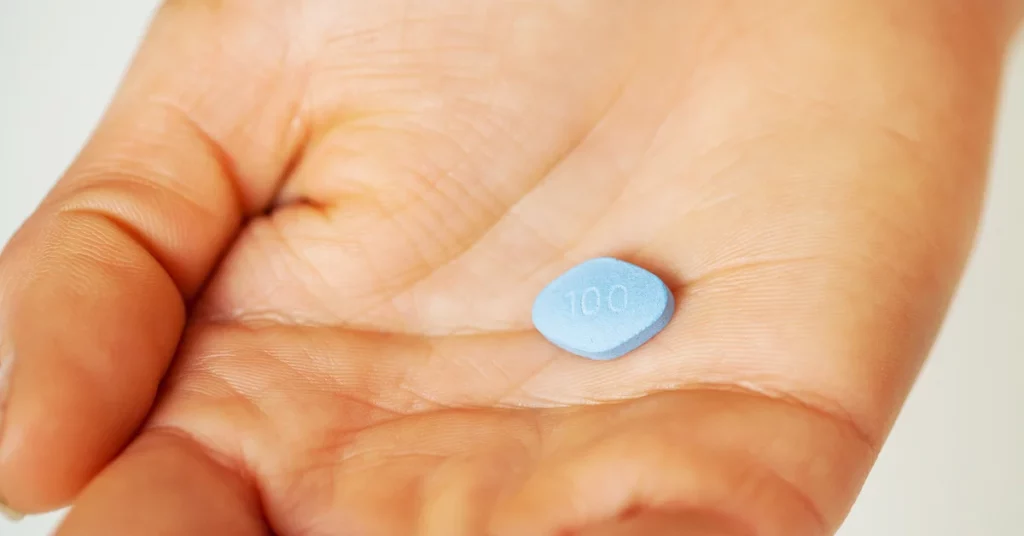 Before jumping on the cause of a Viagra headache, it is crucial to understand how Viagra works.

Viagra contains the primary ingredient Sildenafil, which is a Phosphodiesterase Type5 (PDE5) inhibitor.

It enhances the effects of Nitric Oxide (NO) released during sexual stimulation.

NO helps in the production of cGMP, which is a molecule that helps in the dilation of blood vessels.

PDE5 enzyme is present in the penis and is responsible for breaking down cGMP levels.

But PDE5 inhibitors like Sildenafil blocks the action of PDE5 enzymes. Thus, increasing cGMP levels.

This results in the widening of blood vessels and improves blood flow to the penis.

Enhanced blood flow helps males to get or maintain a firm erection.
Recommended Read- Science Behind the Magic Pill: How Does Viagra Work
Why does Viagra give you a headache
The exact mechanism of how Viagra causes headaches is unknown. The studies on Viagra headaches are contradictory and inconclusive.

Some research suggests that Viagra's ability to widen blood vessels triggers headaches, while other studies point to its effects on Nitric Oxide (NO).

But, evidence suggests that the widening of arteries in the brain caused by NO is not significant. It may be a secondary effect rather than the main cause of headaches.

NO mainly induces headaches through its other cGMP-related mechanisms, which are not known.

Viagra headache may also come with other side effects like flushing and Nausea.

Headaches from Viagra are not serious. They may last about 1 to 3 hours. You may experience a peak headache about 2 hours after consumption.
Warning
As per a
study,
Sildenafil (Viagra) can induce migraine headaches in some people. Nitric Oxide is the
key player
in inducing migraine headaches. So, people with a migraine history should take Viagra (Sildenafil) with ultimate caution.
Factors affecting a Viagra headache
Several factors can exacerbate a Viagra headache. These include dehydration, high doses, and alcohol consumption.

Here we discuss all the factors in detail.
1. Dehydration

Dehydration can exacerbate or lead to a headache. So, it is important to stay hydrated when taking Viagra.
2. High doses

Risks of Viagra's side effects increase with its high doses. 100mg of Viagra is more likely to cause a headache than a 50mg dose of Viagra.

So, it is important to start with a lower dose of Viagra (Sildenafil).

3. Alcohol consumption

Viagra's side effects, like headaches, flushing, etc., increase with alcohol consumption.

Thus, it is advisable not to drink alcohol while taking Viagra.
What are the best ways to prevent Viagra headache
It may not be possible to prevent a Viagra headache completely.

But several steps can help reduce the risk of experiencing this side effect.
1. Stay hydrated

As mentioned, dehydration can exacerbate a Viagra headache. So, stay hydrated while taking Viagra to help prevent dehydration.
2. Follow the recommended dosage

Avoid overdosing on Viagra. Taking more Viagra will not help treat erection issues fast. But it may increase the risk of side effects, and in some cases, you may require medical intervention.

Thus, it is advisable to follow the recommended dosage of Viagra.
3. Inform your doctor

If you have any pre-existing medical conditions like migraine, inform your doctor.

The doctor will determine whether Viagra is right for you or not.
4. Take a break

If you are experiencing Viagra headaches frequently, take a break from the medication.

Ask your doctor to adjust your dosage or recommend other PDE5 inhibitors like Tadalafil.
How to treat a Viagra headache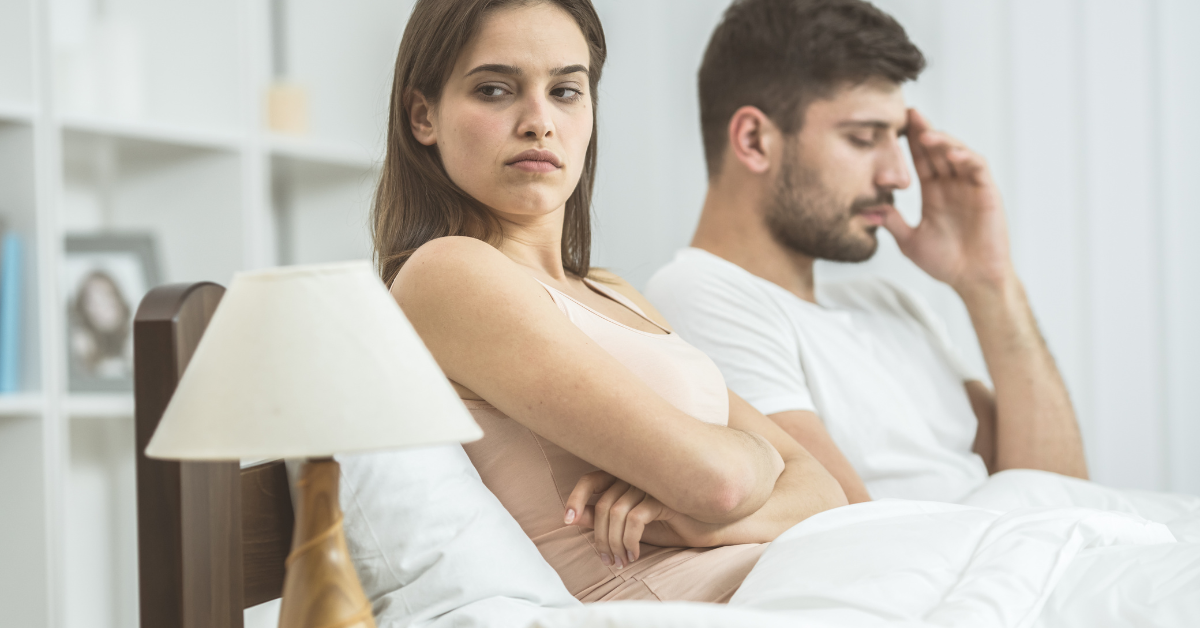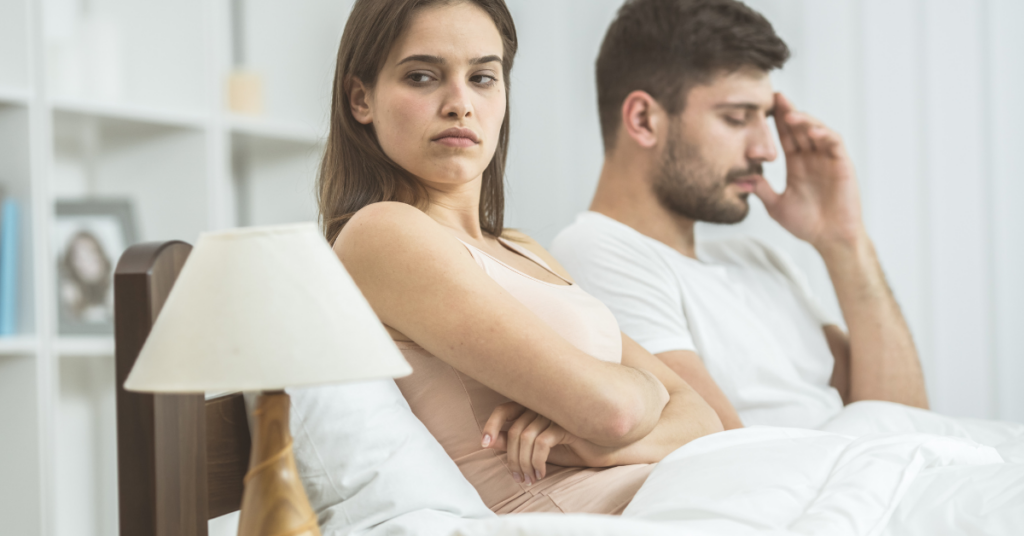 Viagra headache is not a guaranteed side effect for everyone.

It depends on an individual's health and other factors. But if you do experience a headache after taking Viagra, try treatment options.

These include taking painkillers, using a cold compress, and keeping the lights dim.
Take painkillers
A Viagra headache gets better after a few hours on its own.
But if it is unbearable, consider taking painkillers like Ibuprofen or Acetaminophen.

These medicines help with mild to moderate pain. They are safe as they have no drug interactions with Viagra.

Although these painkillers are available over the counter, you should always consult your doctor before taking any medications.
Cold compress
Using a cold compress over the affected area may help relieve the pain and inflammation.

This can reduce its duration directly.
Dim the lights
During a headache, you may experience light sensitivity.

Keeping the lights dimmed might make your pain bearable. Thus, helping you to relax and rest.
When to see a doctor
Although Viagra headache is not a cause for concern, there may be certain situations when you must seek medical attention.


These include severe headaches, long-lasting headaches, and experiencing rare symptoms.
1. Severe headache

If you experience a severe headache that is not improving, seek medical attention.
2. Long-lasting headache

If your headache lasts longer than a week, talk to your doctor right away.
3. Rare symptoms

Contact your doctor immediately if you experience rare symptoms like breathing difficulties or vision changes.
Conclusion
Headaches are the most common side effect of Viagra (Sildenafil).

They are generally mild and short-lived.

A Viagra headache can vary in severity, depending on the individual's health conditions.

You can manage Viagra headaches using cold compresses, painkillers, etc.

But if they become troublesome, consult your doctor immediately.
Frequently Asked Questions
How to get rid of a Viagra headache?
There are several ways to get rid of a Viagra headache. These include resting, using a cold compress, taking painkillers, and keeping the lights dim.
Is switching to some other ED pill help with a headache?
Switching to some other ED pill might help with a headache. As per a study, low doses of Tadalafil and Vardenafil were less likely to trigger cluster headaches than Viagra. But, before switching the medication, it is necessary to consult a doctor.
Which types of headaches can Viagra cause?
About 25% of Viagra users experience headaches. These headaches may vary in severity and can sometimes be experienced as migraines. In addition to migraines, Viagra may also cause a specific type of headache called a cluster headache.
Does Viagra give you a head rush?
Yes, Viagra can give you a head rush. It can cause a sudden drop in blood pressure when you stand up from a seated position. This can lead to lightheadedness or dizziness. But this sensation lasts only a few seconds to a minute.
How long does a Viagra headache last?
A Viagra headache lasts for 15 minutes to 3 hours in general. If Viagra triggers a cluster headache, it may go on or off for a week. But if it lasts longer than a week, consult a doctor right away.
Citations:
When quoting information, ForDailyMedicine always provides full citations. Please read our
Content Information Policy
if you want more details on the methods we take to ensure the continued high quality of our content.