Choosing the best for your eyelashes is complicated with multiple products out on the market.
We are drawing a clear picture for you to pick the winner from the battle of eyelash serums – Bimat vs. Careprost vs. Latisse.
An eyelash serum will save you time, effort, and money.
Simplify your makeup routine by having flawless lashes with eyelash serums.
What is an eyelash serum?
Eyelash serums are a way to enhance your eyelashes by bringing volume and length to your natural lashes.
Do not confuse these serums with your drugstore mascara, false lashes, or eyelash extension.
It is an eyelash elixir, a genuine product that will transform your lashes.
Eyelash serums usually contain ingredients that perpetuate the growth of your natural lashes.
They also foster the growth of new and healthier lashes.
With prolonged use, eyelash serum can give you beautiful, naturally blessed eyelashes.
Spending your hard-earned money on products that you will remove or discard eventually is one thing.
The use of an eyelash serum adds something to your pre-existing beauty.
How to bring life back to your lashes?
The answer is eyelash serum! Revive your eyelashes and say goodbye to dull and falling eyelashes.
Other products may give temporary visual appeal, but nothing can quite beat the feeling of waking up with full eyelashes.
These eyelashes will help you be confident and also look and feel beautiful at the same time.
Most of the eyelash serums that provide results are the ones that have a high concentration of Bimatoprost.
Bimatoprost is used for the treatment of hypotrichosis of eyelashes. Hypotrichosis is when a person has less hair growth in certain body areas.
Popular eyelash serums
There are plenty of different products that claim to make your eyelashes attractive. Not all of these products provide promising results to back up their claims.
Some of the special eyelash serums available on the market are as follows:
What is the difference between Bimat and Careprost?
Bimat and Careprost are very similar. These two eye drops help with the treatment of glaucoma and intraocular hypertension.
The main active ingredient is Bimatoprost in both eyelash serums.
Both of these products are also marketed at a similar price point. Despite being identical, there is a difference separating these two products.
The manufacturer of Careprost is Sun pharma India, whereas Ajanta Pharma India manufactures Bimat.
You can easily buy Bimat online if you want to try it yourself. Careprost is more favored by the public and is generally referred to as generic Latisse.
Also read: Careprost vs Latisse: Same or different?
Is Bimat the same as Latisse?
Three of the most popular eyelash serums – Bimat, Careprost, and Latisse are similar. But that does not mean that Bimat is the same as Latisse.
The manufacturer of Bimat is Ajanta Pharma India, whereas Allergan PLC manufactures Latisse.
Bimat is also a generic version of Latisse. Both the eyedrops have the same active ingredient, i.e., FDA-approved bimatoprost.
The other difference between these two products is that the pricing of Latisse is way higher than Bimat.
Latisse is sold at anywhere between $120 to $140 for 3ml, whereas Bimat is sold for about $10-$20 only.
The basic difference between Bimat, Careprost, and Latisse
| Basis | Bimat | Careprost | Latisse |
| --- | --- | --- | --- |
| Full name | Bimat Eye Drop | Careprost Bimatoprost ophthalmic solution | Latisse |
| Manufacturer | Ajanta Pharma | Sun Pharma | Allergan PLC |
| Country of Origin | India | India | Ireland, |
| Complimentary Brush | Yes | No | Yes |
Side effects of eyelash serum
Most of the side effects of eyelash serums are temporary. They are only observed when a person initially starts using the product.
You might not even feel these side effects when you become accustomed to eyelash serum.
Some of the side effects are as follows:
Swelling of the eyes
Irritation around the eye
Redness in the eye
Blurred vision if the product goes in the eye
Temporary hyperpigmentation
Apart from these, one noteworthy side effect of these eyelash serums is being used as an eye drop.
If you use these as an eyedrop, you may notice a change in the color of the iris, the colored part of the eyeball is known as the iris.
All of the eyelash serums contain an FDA-approved ingredient, making these safe for use and worth your trust.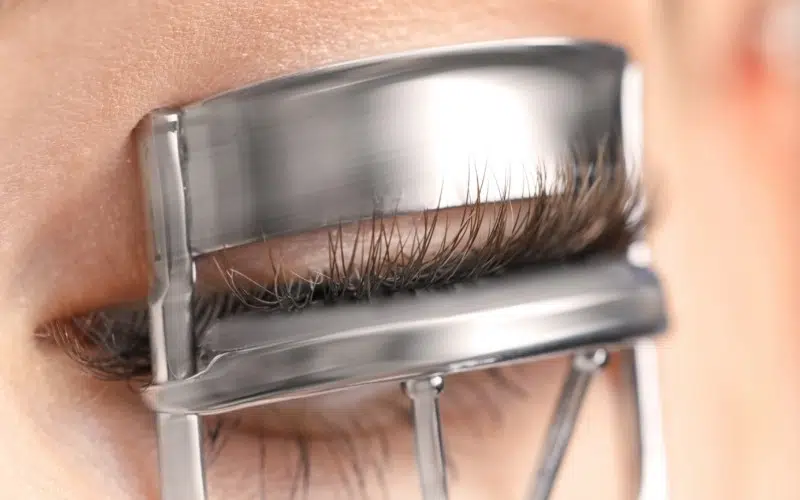 Is eyelash serum worth the time and effort?
Definitely! These serums are an investment in your confidence. If having fuller lashes is something you desire, you should go for it.
Other products that may help you achieve a similar look will probably wear off and might cause more damage to your natural eyelashes.
These products can range from falsies to heavy eyelash extensions.
These are also much more time-consuming when compared to eyelash serums which you apply at the end of the night and go to sleep.
You'll be able to save a lot of money by opting for eyelash serum instead of eyelash extensions.
Almost zero hassle with the ability to wake up with full eyelashes is totally worth the time and effort.
Where to buy eyelash serum?
You can purchase these eyelash serums online very quickly.
Bimat is available with or without an application brush, although Careprost is available without an applicator.
Some stores sell Careprost with brushes. The price of such combos is a little extra.
Take caution while using these eyelash serums, and make sure the seal is never broken before you start using the products.
In case the seal is broken, discard the product immediately.
Where to Buy Careprost? Storage, Uses, Side Effects, and More!

Why and How to Buy Careprost in Canada?
Ultimately
There are always specific side effects that come with different beauty products.
Eyelash extensions can damage your natural lashes, whereas falsies can also rip your natural eyelashes out when taking them off.
By using serums such as Careprost and Bimat eyelash serums, you gain the ability to get and maintain flawless lashes, All The Time!