Folks recall that the eyes are a window to a person's soul. Your eyelashes add beauty to these expressive windows; they also protect the eye from any foreign particles.
You must have tried many hacks and oils to grow your eyelashes. But nothing works better than Careprost eyelash serum.
Maybe this name popped up for the first time, or perhaps you are already familiar with the serum on your
quest to find the best for your lashes.
Brace yourself as we introduce you to a product that will make your lashes luscious and full of flutter.
What is Careprost eyelash serum?
Careprost eyelash serum is an eye drop medically sold as Careprost Bimatoprost Ophthalmic Solution.
It is an eye drop for treating high pressure in the eyes and Glaucoma. A doctor must recommend this eye drop for treating glaucoma.
Through an interesting observation, the patients grew thicker and longer lashes while using Careprost eye drops for treating glaucoma.
The ingredient: Bimatoprost helps grow eyelashes when used for an extended period of time.
Is Careprost lash serum FDA approved?
Yes, Careprost with the ingredient Bimatoprost is FDA approved for use and selling purposes.
It is safe for external use. No one below the age of 16 should use it.
Uses of Careprost eyelash serum
Intraocular Hypertension
Careprost eye drops treat the condition of intraocular hypertension. Using Careprost in this condition decreases the fluid pressure in the eyes.  
Hypotrichosis of the eyelashes
If a person has thin or light eyelashes, there is not sufficient protection from dust and other tiny particles. This lack of eyelash hair is known as hypotrichosis of eyelashes.
In such cases, Careprost eyelash growth serum can help make the lashes fuller and thicker providing protection.
Open-angle Glaucoma
Open-angle glaucoma does significant damage to the eyes, leading to vision loss if left untreated.
Any person who has glaucoma suffers from progressive spoilage of the optic nerve.
We highly recommend that you know and understand a medication before using it. Reach out to your doctor or a trusted website to know all about Careprost eye drops.
How to use Careprost?
Instructions
For the best results from the eyelash serum, follow the instructions below:
Take an eyeliner brush and dispense a tiny amount of Careprost eyelash serum.
Draw a line on your upper eyelid across the lash line.
DO NOT use the product on the lower lash line.
Apply the lash serum once a day, preferably before bed at night.
Always wipe or wash off the excess Careprost eye drop. Use it every day till you achieve your desired results.
Results will start being visible in 8 weeks.
Say goodbye to those long appointments and wait for your perfect lash extensions.
These extensions come with high maintenance, short life, and a high cost.
This serum for eyelashes will give you long-lasting results when used regularly.
Is it safe to use Careprost as an eyelash serum?
Yes, you can trust Careprost to grow your eyelashes. Careprost is an ophthalmic solution that is perfectly safe to use close to the eyes.
The active ingredient: Bimatoprost, was used to treat glaucoma. One of the very prominent side effects was excessive lash growth.
Due to this side effect, Careprost eyelash serum came into existence.
Benefits of using Careprost eyelash serum
The most significant benefit of using Careprost eye drops is that it helps treat glaucoma and high pressure of optic nerves.
It will help you and your doctor treat these conditions.
Apart from these, the serum also saves you tons of money you otherwise spend on eyelash extensions and false lashes.
When you have beautiful lashes, naturally, you can eliminate these expenses.
Time-saving is another benefit of using Careprost Bimatoprost.
The results achieved from this eyelash serum are not temporary like lash extensions or mascara, as the serum works by restoring the natural growth cycle of your lashes.
Once this cycle is formed, the result is beautiful luscious eyelashes.

Before and After
The results from Careprost eyelash serum are natural-looking longer lashes. Folks who noticed the results swear by the miraculous product.
Despite the outstanding results, these are not permanent either. The results appear and stay only when the product is being used religiously.
As mentioned above, results will start being visible in 8 weeks.
You can start using Careposts scarcely about once a week to maintain your desired results.
What are Careprost side effects?
Careprost is an ophthalmic solution. Therefore it is completely safe for close eye application.
Despite this, there are some side effects you should be aware of before you start using Careprost eyelash serum.
Redness of the eye
Irritation in the eye
Blurred vision
Swelling
Double vision
Itching and burning sensation in the eye
Hyperpigmentation
Change in eye color
Side effects such as a change in eye color have only been noted in glaucoma and intraocular hypertension patients.
Hyperpigmentation also goes away quickly after you stop using the product.

Precautions
Careprost will bring you closer to your dream lashes. However, you need to keep some precautions in mind.
Always remove contact lenses before applying eyelash serum. It does not matter if you are not using the eyedrop.
Wait for 15 minutes before putting contacts on.
Give a break of 10-15 minutes before applying or using any other eye drops.
Always clean the excess product that might have spilled.
Do not use Careprost if you are allergic to any of the ingredients present in the eyelash serum.
Stop using Careprost immediately if you are experiencing any discomfort, and contact your doctor directly.
If you keep these precautions in mind, Careprost Bimatoprost can turn into an eyelash holy grail. This can help you save money and time.
This active ingredient in Careprost eyelash serum provides your lashes the goodness they deserve.
Are there any alternatives to Careprost?
Yes, some other products are available in the market that promotes eyelash growth. These alternatives are readily available in the market.
You can try these products if you want to grow your eyelashes.
Latisse
Latisse is very similar to Careprost as both have the active ingredients Bimatoprost present in it. It is an FDA-approved product; a doctor's prescription is required to purchase Latisse. It is also more expensive than any other product available on the market.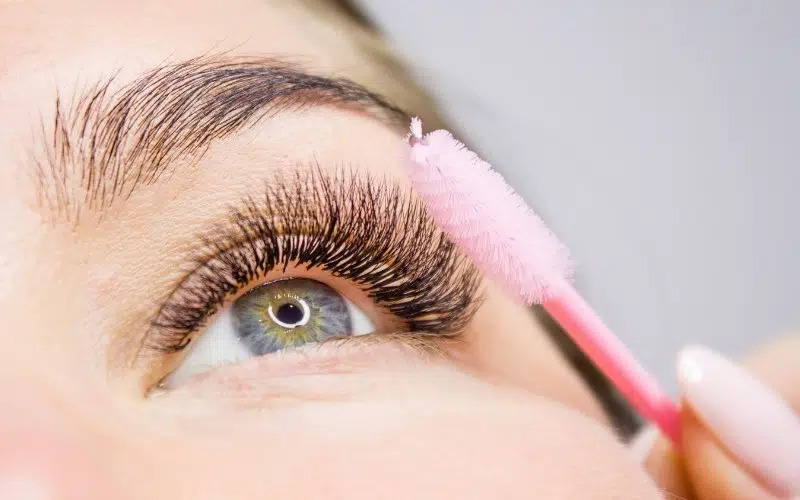 Castor Oil
Castor oil helps in making hair thicker and darker. It is, however, very thick oil, and it is hard to work it. For best results, it is advised to warm up castor oil before application to the desired area. It burns and stings if it gets in the eyes.
Bimat
It also falls in the category of pharmaceutical lash serums. Bimat is similar to Careprost as well as Latisse. The active ingredient in Bimat is also Bimatoprost. It is usually retailed with an applicator brush for accurate application.
Coconut Oil
Coconut oil is widely acknowledged for restoring hydration to dry locks and making hair stronger. Although due to a lack of research and consumer feedback, many believe that coconut oil is only suitable for conditioning. It can not promote hair growth.
Now that we know of some alternatives to Careprost, let us understand the pharmaceutical products more.
It is crucial to make conscious decisions after understanding the products.
Careprost vs Latisse
Careprost and Latisse both have the same active ingredient present, i.e., Bimatoprost. The only difference is the selling price for Latisse and Careprost.
Careprost is the generic version of Latisse.
Read Careprost vs Latisse: Same or Different? to get a deeper insight into the difference and similarities between Careprost.
Bimat vs Careprost
Like Careprost, Bimat is also used to treat hypotrichosis. It is retailed with an applicator for precise application, unlike Careprost.
The active ingredient – Bimatoprost, is also the same in both eyelash serums.
You can read more about different lash serums

Battle of Eyelash Serums!
Where to buy Careprost?
Falsies and extensions are fabulous and quick to give you those voluptuous lashes. But nothing can beat the beauty of naturally opulent eyelashes.
Grow your lashes stronger and thicker by using Careprost serum.
You can buy Careprost online through reputed online platforms to save time and money.
Who can buy Careprost eyelash serum?
Thanks to globalization and technology, now anyone can have access to any product.
You can place an order online through the convenience of your home and receive the product shortly after.
Anyone over and above the age of 16 can purchase and use Careprost.
You can easily buy Careprost in the USA and in Canada from an online store.
Ultimately
Going the natural route for your dream lashes does not have to be expensive when you can make it sustainable and cost-effective.
You must have noticed that the eyes shine brighter when the lashes are fuller?
Now you can have beautiful lashes as you wake up.
Just devote a set time to Careprost eyelash serum in your nighttime skincare routine and experience naturally fuller, beautiful lashes in no time.