If you have stumbled across this article, it is evident that you are looking for answers.
Your questions can range from, "does Careprost boost eyelash growth?" – to – "how does Careprost Bimatoprost ophthalmic solution work for glaucoma?"
Here we will try to answer questions related to Careprost eye drops and will help you make a better purchasing decision.
It does not matter if you are here to seek help for your eyelashes with Careprost eye serum or just curiosity.
Who manufactures Careprost Bimatoprost?
Carerpost is a generic medicine by Sun Pharma. Sun Pharma is an Indian pharmaceutical company, it is a hub for manufacturing generic medicine.
| | |
| --- | --- |
| Application area | Careprost is an Ophthalmic Solution; therefore, it is used to treat eye-related troubles. |
| Resolves trouble | This is used to resolve Glaucoma, Intraocular hypertension, and hypotrichosis of the eyelashes. |
| Usage | It is used internally; you need the liquid to work on the required area, be it the eyes or lash line. |
| Ingredients | Active Ingredient: Bimatoprost Inactive Ingredients: Sodium chloride, Sodium phosphate, dibasic, citric acid, purified water, and benzalkonium chloride |
It is essential to know all the information about Careprost eye drops.
Careprost is available for purchase in places such as the USA and Canada.

How does Careprost work?
Careprost perfectly safe ophthalmic solution.
The main active ingredient present in the solution is Bimatoprost.
This ingredient is famous for an interesting side effect for glaucoma patients that is actually desirable among the masses. 
This popular side effect is increasing lash growth.
Bimatoprost promotes the duration of the eyelash growth phase. It gives longer and fuller lashes.
This side effect made Careprost a favorite eyelash serum for women looking for an organic eyelash aesthetic.
Careprost also treats intraocular hypertension by controlling the pressure of fluid present in the eyes.
This product is readily available in the market, and you can also buy Careprost online.

How to use Careprost?
Using the holy grail of the eyelash world is pretty convenient.
You do not need any additional tool but a flat eyeliner brush for a precise application.
Follow the instructions given below carefully and get closer to achieving dream eyelashes.
Use the minimum quantity possible and apply it to the very end of the upper eyelid with the help of an eyeliner brush.
Try and place the product as close as you can to the hairline of the eyelash.
Do not let the product enter the eye. Don't use it as an eye drop unless your doctor recommends it.
After application to your upper lash line, clean any extra product.
The Careprost eyelash serum should only be applied on the upper lash line and never on the lower.
Use Careprost only once a day, preferably at night, for optimal results.
When will I see the results of Bimatoprost?
One can note the effectiveness of Careprost Bimatoprost eye drop as soon as you start using the eye drop.
Your eyes will feel relaxed as it controls intraocular hypertension.
If you use Careprost to enhance your lashes, you might notice new growth in 2-4 weeks.
The existing eyelashes will appear longer in 4 weeks. Drastic before and after results are visible in 8 to 12 weeks of daily application.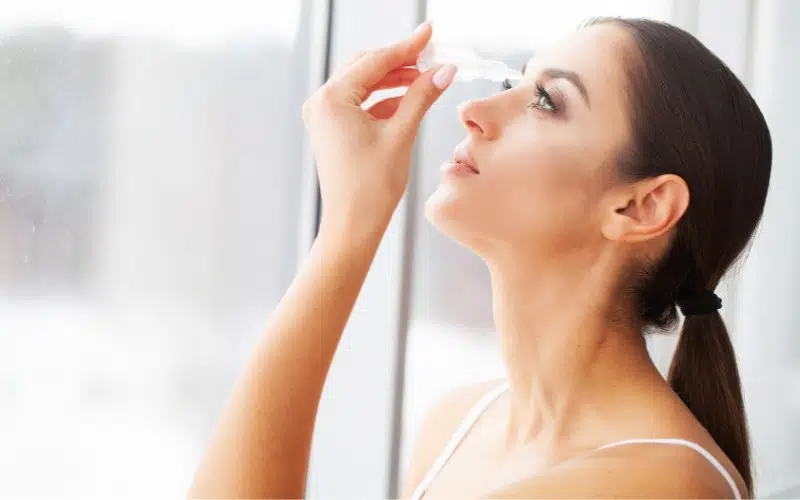 How long does a bottle of Careprost last?
A bottle of Careprost can last forever. It contains 3ml of product.
Believe it when we say this, a bottle of Careprost can last for a long time when used scarcely on the eyelashes.
However, it is suggested that you replace the bottle of Careprost every four weeks or so to avoid it getting contaminated or infected.
The shelf life of other similar products such as Bimat and Latisse is the same as Careprost.

What will happen if I get Careprost in the eye? Image
Careprost is an ophthalmic solution therefore only used for the eyes.
The prominent ingredient Bimatoprost is FDA approved; therefore, it is perfectly safe for the eyes.
Despite this, a person needs to decide the goal they want to achieve by using Careprost.
If you use it for eyelashes, you must avoid getting it in the eyes. It is not required to put it in the eyes to grow lashes.

Is it safe to use Careprost on both lash lines?
No. It is strict advice to use Careprost only on the upper lash line.
Be careful while using Careprost as an eyelash serum. Applying it to the lower lash line can make it enter the eye.
It can make your eyes tingle or burn. To avoid this, do not apply Careprost on the lower lash line.

Where to buy Careprost Bimatoprost Ophthalmic Solution?
You can get the solution from most pharmacies.
However, be cautious and only purchase from stores dealing in genuine products.
Check the expiration date and seal before you start using the product.
You can buy Careprost online to save time, energy, and money. In case there is a compromise with the seal, it will also allow you to return your product hassle-free.
Recommended read: Where to Buy Careprost? Storage, Uses, Side Effects, and More!

Does Careprost cause hyperpigmentation?
Yes, it has been noted that Careprost caused hyperpigmentation in some folks.
Hyperpigmentation is a minor side effect, and it clears up as soon as you stop using the product.
This is why it is highly recommended that you always clean up any excess products that might have spread on your face.

Is Careprost safe to use on eyebrows?
Yes! Careprost is equally safe and effective to use on eyebrows.
The active ingredient Bimatoprost present in Careprost helps in the steady growth of eyelashes and eyebrow hair.
Bimatoprost makes eyelashes and eyebrows aesthetically attractive while giving you natural and permanent results with consistent application.
To maintain the shape of your eyebrows, apply the product very carefully in the desired region.
Keep in mind the shape you want for your eyebrows. You must also groom and pluck the excessive hair growth to maintain your ideal fluffy eyebrows.
Recommended Read: Why Trust Careprost? Side Effects, Benefits, Boosted Lash Growth
What if I miss a dose of Careprost eyelash serum?
You need not worry about a missed application of Careprost eyelash serum.
In case you forgot to apply the serum, continue with the regularly scheduled use.
Do not try to make up for a lost day by applying any extra product as it is not necessary. This additional product will be a waste and only create a mess.
It would help if you used the Careprost Bimatoprost Ophthalmic solution almost every night for the best results.
Change the schedule to a once-a-week application after reaching your ideal goal for maintenance purposes only.

What happens if I stop using Careprost Eye Drop?
You can stop using Careprost every day after achieving your desired result or 8 to 12 weeks of using the product.
Try applying it once a week when after you achieve the desired eyelashes.
If you stop using Careprost, slowly, the boost that your natural eyelashes had will go away.
Your eyelashes will restore to their natural state
Ultimately
The question – 'will this make my eyelashes longer and fuller?' is still running in your mind; the final answer will be to let Careprost do the talking.
If you want to buy Careprost Bimatoprost Ophthalmic Solution, do your thorough research and understand the ins and outs of the eye drop.
It is scientifically proven that it helps your lashes grow into a fuller and more beautiful state.
This holy grail will change the way you take care of your eyelashes.