Zentel Syrup is a sought-after deworming medicine in liquid form.
Deworming is a process of killing intestinal worms that live in the stomach and feed off sugar and starch.
Some types of worms, for instance, tapeworms, can stay in the host's body for as long as 30 years.
The longest tapeworm ever to be removed from a human's body was 82 feet long.
These intestinal worms can cause a plethora of problems and illnesses in the human body.
Therefore, it is imperative to get rid of these parasites.
It is a popular medicine that will help you get rid of them.
Albendazole is an active compound present in Zentel Syrup.
Doctors worldwide recommend Albendazole as a cure for most types of intestinal parasites.
For more information, you can read our comprehensive article: What to Expect After Taking Zentel?
How does Zentel work?
Zentel syrup is a liquid Anthelmintic, meaning it belongs to the category of anti-worm medicines.
The FDA gave its approval to Zentel (Albendazole) in 1996.
Zentel syrup's active compound Albendazole works by starving parasites and restricting their sugar(glucose) and starch supply.
Eventually, the worms lose their energy and die.
Later, our body excretes the dead worms and eggs from the body. Although, some worms may be expelled out alive.
Keep in mind that this syrup is a prescription drug, and you can buy it only on your doctor's recommendation.
For further knowledge, you can go through our article on What is Zentel (Albendazole) Used For?
Difference between Zentel syrup and Zentel tablet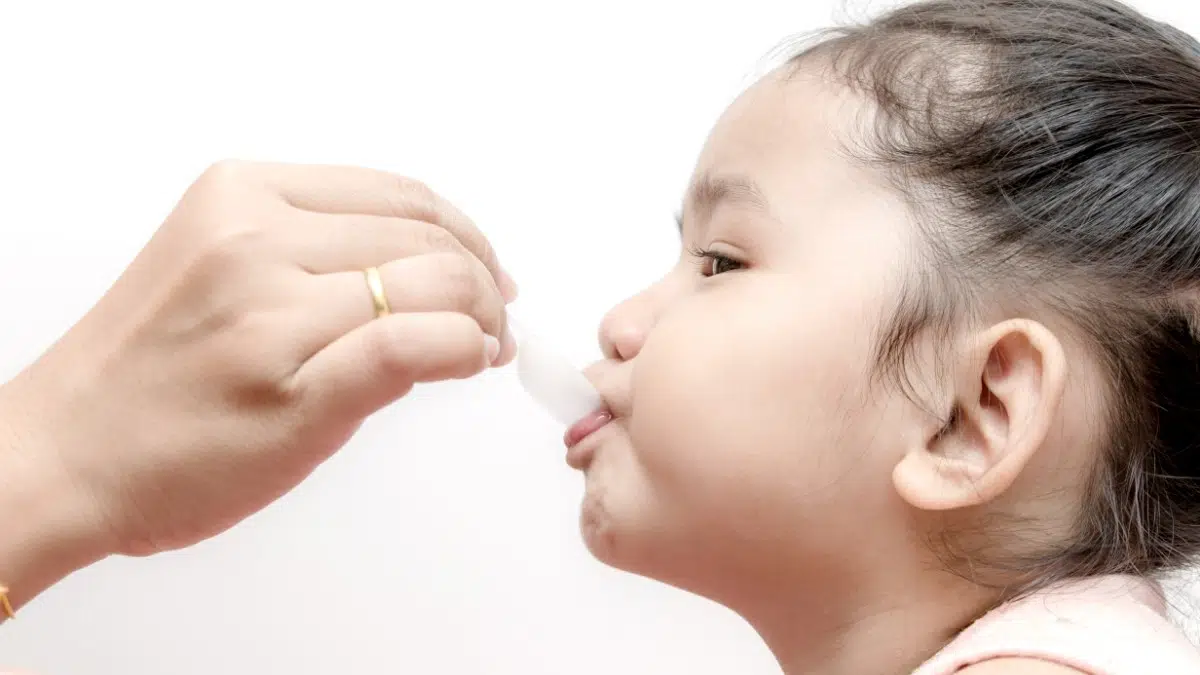 Once your doctor prescribes Zentel (Albendazole), it is your choice to buy tablets or the same medicine in liquid form.
Before you choose between Zentel tablets and Zentel syrup, consider the points mentioned below:
Intestinal parasites are rampant in children.
Out of 3.5 billion people infected with intestinal parasites, only a fraction of them is adults.
Children find it difficult to swallow pills.
Therefore, Zentel syrup is a better option.
Recommended reading: How to Get Rid of Worms and Parasites in Humans Without Medication?
Some studies concluded that our bodies absorb syrups faster than tablets.
Most syrups have a higher optimization rate, i.e., they are slightly more effective than tablets.
However, most tablets and syrups that have the same active ingredients work similarly, they may have slight differences.
Therefore, it depends on whether you want to go with Zentel syrup or Zentel tablets.
Although, if you are allergic to Albendazole and you can't have Zentel at all, you can try these 7 Foods That Kill Intestinal Parasites in Humans
Zentel syrup dosage
An average course of Zentel in liquid form consists of 400mg of Albendazole and is prescribed for twenty-eight days.
If the infection persists, your doctor might advise you to take a longer course of Zentel syrup.
Although, the dosage for this medicine will differ from person to person.
The dosage that your healthcare provider recommends will depend on several factors like:
Weight
Age
Type of infection
Severity of infection
Always follow your doctor's recommendation and abstain from self-medicating.
If you want to know more about medicines that kill intestinal worms, you can go through our Detailed Guide on Worm Medicine for Humans
Who should not consume Zentel syrup?
Even though Zentel in liquid form is a very safe medication and almost everyone can take it, there are a few exceptions that you should keep in mind.
Pregnant women
Women early in their pregnancy should avoid Zentel syrup because it might harm their fetus or create complications.
Also, women trying to have a child should avoid pregnancy while taking Zentel syrup.
The doctor in charge might ask you to take a pregnancy test to ensure that you are not pregnant.
Although, if required, you can take a few contraceptive measures to ensure you don't get pregnant.
You can stop taking precautions after 3-5 days from your last dose of Zentel syrup.
Women who breastfeed
Women who breastfeed should stop doing so while they are on Zentel.
Zentel syrup, once ingested, can pass through the milk ducts and can cause harm to the baby.
For further queries regarding breastfeeding, check with your healthcare provider.
Also Read: How to Get Rid of Worms and Parasites?
People with kidney or liver disease
Individuals with liver and kidney disease should not take Zentel syrup unless their doctor advises otherwise.
In some cases, Albendazole releases liver enzymes that might cause harm to the liver if it is already damaged.
Therefore, the best thing to do is discuss your medical history with your doctor.
Your doctor might run a few tests while you're on Zentel to ensure there are no complications.
People with eye problems
If you have previously suffered from an issue related to your eye(especially your retina), inform your healthcare provider before taking Zentel syrup.
Others
Discuss with your healthcare provider and ensure that none of your medicines interfere with Zentel.
Also, make sure that you're not allergic to Albendazole.
Rush to a hospital immediately if you have the following symptoms after taking Zentel:
Swelling on your face, neck, or limbs
Difficulty in breathing
Skin rashes
These signs are a severe allergic reaction, and you should call 911 or rush to a hospital if symptoms worsen.
Recommended Reading: Albendazole vs. Mebendazole
Where can I buy Zentel syrup?
You can buy this syrup either online or offline.
Although, you must remember that Zentel is a prescription-based drug.
After you have met a doctor and have a prescription, you can choose between online and physical pharmacies.
Online pharmacies offer better pricing because they can procure drugs for a lower price and have a centralized order-processing system.
Therefore, you will always find lower prices online compared to offline pharmacies.
There are a lot of fraudulent online pharmacies out there, and the chances are high that you might end up at one.
There is one medical pharmacy that you can trust, ForDailyMedicine.
At ForDailyMedicine, we provide you with the best quality medicines at the lowest prices online.
For further assistance, read our article on Where Can I Buy Zentel Worm Medicine?
Side effects of Zentel syrup
Zentel in liquid form has a few mild side effects, and severe side effects are rare.
The most common side effects include but are not limited to:
Nausea
Stomach Pain
Headache
Dizziness
Vomiting
Fatigue
Weakness
Although, different people may react differently to medicine.
Therefore, contact your healthcare provider if you face other side effects.
Also, you should avoid foods and beverages that can interact with Zentel.
Go through our detailed article on the same:

Foods and Beverages to Avoid While Taking Albendazole
Frequently Asked Questions
Is Zentel syrup as effective as Zentel pills?
Yes, Zentel syrup is as effective as the pills. 
They both have Albendazole as their active and primary compound. 
Is Zentel syrup as effective as Zentel pills?
Yes, Zentel syrup is as effective as the pills. 
They both have Albendazole as their active and primary compound. 
Does my kid need Zentel syrup?
If your kid is suffering from Intestinal parasites, then your kid needs to have a course of this syrup.
What are the kind of worms Zentel syrup can kill?
Zentel kills a plethora of worms, including pinworms, roundworms, whipworms, tapeworms, and hookworms.
Where can I buy Zentel syrup online?
You can buy this syrup online after procuring a doctor's prescription. 
Although, there are a lot of fake pharmacies on the internet selling counterfeit products. 
ForDailyMedicine is the safest option to buy medicines online at a lower price with best-in-class customer service.
Are Albendazole and Mebendazole same?
No, Albendazole and Mebendazole are different compounds. 
Although both treat worm infections, Albendazole is said to work better against most worms.
Is Zentel Syrup an OTC Drug?
No, Albendazole is a prescription drug and not an OTC drug. 
Therefore, you will need a doctor's prescription before buying Albendazole.