A parasite is a living organism that lives in host organisms and gets its food from them. Though some parasites may cause no harm to the host, others can grow, reproduce and make the host sick enough to get diagnosed with a parasitic infection. Common parasites that can affect humans are roundworms, hookworms, and scabies mites. Ivermectin tablets are one of the landmark medicines used to treat parasitic infections in humans.

This antiparasitic drug was discovered in 1975 and was mainly used in veterinary medicine.
However, in 1987 it was approved for human use to treat parasitic infestations like scabies, head lice, river blindness, and threadworms.
What is Ivermectin?
Ivermectin is defined as an antiparasitic medication that belongs to a class of drugs called anthelmintics. Ivermectin 3mg tablets are commonly taken to treat a diverse range of parasitic infections like hookworms, whipworms, and other parasitic worms. It is a U.S FDA ( United States Food and Drug Administration ) approved drug. A medical professional may prescribe you Ivermectin tablets in case of parasitic infections.
Ivermectin mainly works by altering the nerve and muscle function of the worm, ultimately paralyzing and killing the parasites in the body. Suppose one does not get the proper treatment for parasitic infection in time. In that case, it can certainly affect the quality of life and result in life-threatening conditions.
Is Ivermectin an Antibiotic?
No, Ivermectin is not an antibiotic. Ivermectin tablets belong to a class of medicine called antiparasitic drugs. It helps treat infections caused by parasites like Onchocerciasis, Strongyloidiasis, and Myiasis. In comparison, antibiotics are the medicines that are used to fight bacterial infections. To know more about antibiotics, click here.
Is Ivermectin a Steroid?
No, Ivermectin is not a steroid. In the context of parasitic infection in humans, Ivermectin is a famous antiparasitic drug. In contrast, steroids are drugs that mimic the action of hormones that reduce inflammation in the body. It is essential to get proper consultation from a doctor before taking Ivermectin. Click here to read more about steroids.
Is Ivecop the same as Ivermectin?
Yes, Ivecop is the same as Ivermectin. Menarini India Pvt Ltd manufactures antiparasitic medications like Ivecop. Ivecop tablets contain an active ingredient called Ivermectin, which belongs to a class of medicine referred to as an anthelmintic drug. Ivermectin tablets primarily treat the skin, eyes, and intestinal tract parasitic infections.

Stromectol is a renowned brand name famous for manufacturing Ivermectin medication. In order to buy Ivecop 12 mg tablets online at the best possible price, visit our online medical store, Fordailymedicine.com.
Also Read: When to Take an Ivecop 12 Tablet?
What is the Ivermectin tablet used for?
Ivermectin tablet is an FDA-approved medication used to treat various parasitic infections in humans. One can take this medicine for the following type of medical conditions:
Scabies
Ascariasis
Trichuriasis
Strongyloidiasis
Lymphatic filariasis
However, in parasitic infections like head lice or rosacea, one can consider some topical form of Ivermectin for external use. Only through a valid prescription should one take Ivermectin tablets.
Should you take Ivermectin medicine for scabies?
Scabies is a parasitic infestation that occurs due to a human itch mite. Scabies is highly contagious and can spread quickly through physical contact. Some of the most common symptoms of scabies are itching, blisters, and skin rashes.
Taking Ivermectin tablets can prove to be effective in treating such a skin condition. Therefore, Ivermectin works by interrupting the functioning of a class of ligand-gated chloride ion channels in the scabies mite. However, take medicine for scabies only when prescribed by your doctor.
What Ivermectin dosage should you take?
The dosage for Ivermectin can vary among patients depending upon the severity of the individual cases. But the dose of Ivermectin tablet strictly depends upon the diagnosis done by a medical professional.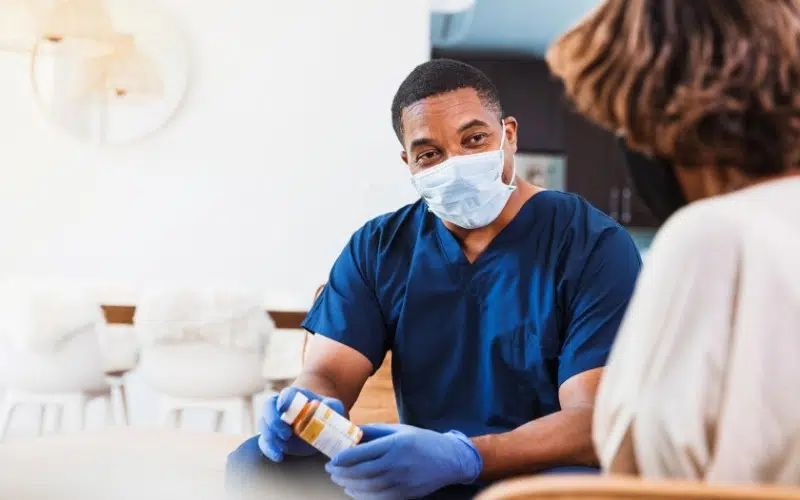 Which dosage would work the best to treat parasitic infection will depend upon the type of infection you have. In case of missed or overdose, one should take the following measures:-
Missed dose: If you forget your regular dose of Ivermectin, take the medication as soon as you remember it. However, if it is almost time to take your next dose, you can skip your missed dosage and continue with your regular dosage. Avoid taking an overdose of the Ivermectin tablet.
Overdose: In case you overdose on Ivermectin tablets and start experiencing symptoms like unconsciousness, numbness, seizures, and troubled breathing, seek emergency medical attention.
How to take Ivermectin?
Take Ivermectin tablets by mouth with a glass of water on an empty stomach before meals. Your doctor will prescribe the dosage as per the requirement of your case. When it comes to treating parasitic infections, Ivermectin tablets can work effectively.
It is necessary to follow all the doctor's instructions to treat the infection. However, doctors may do additional tests or increase the dosage if the condition does not resolve. To know how Ivermectin can work more effectively, click here.
Ivermectin tablet vs. injection:
As per the patient's need, Ivermectin medication is available in the form of tablets, lotions, and injections. Though tablets are first absorbed through the stomach and then passed through the liver before entering the bloodstream, injected medicines work on an immediate basis.
However, Ivermectin medication has only been approved to be administered through the oral route in the case of humans, as per the National Center for Biotechnology Information(NCBI). Get a proper medical consideration from your doctor before taking any form of Ivermectin medication. To find out more about Ivermectin injections, click here.
What are the side effects of Ivermectin?
Ivermectin tablets may cause some side effects if taken without the guidance of a doctor. Some of the common side effects that one may experience after taking Ivermectin are as follows:-
Loss of energy
Stomach pain
Itchiness
Change in vision
Nausea and vomiting
Loss of appetite
Mild skin rashes
Headache or dizziness
Sleepiness or drowsiness
Joint or muscle pain
Trouble in breathing
Fast or irregular heartbeat
Eye pain, swelling, or redness
Uncontrolled urination or bowel movement
The possibility of any adverse side effects arising due to the Ivermectin is generally low. Getting the necessary medical treatment is imperative if you witness such symptoms after taking Ivermectin tablets. Hence, avoid all forms of self-medication to treat the symptoms of parasitic infection. Take an Ivermectin tablet only when recommended by a medical professional.
What are the rare side effects of Ivermectin?
Doctors prescribe Ivermectin tablets to treat parasitic infections in humans. Along with the required effect of the drug, in some odd cases, one may face some uncommon or rare side effects of Ivermectin which are as follows:-
Blistering or peeling skin
Loss of consciousness
Difficulty in standing or walking
Burning, dry or itchy eyes
Extreme tiredness or drowsiness
Swelling in the face, arms, hands, or feet
In some rare circumstances, an allergic reaction to the Ivermectin drug can also lead to side effects like skin rashes, swelling, or difficulty breathing. Consult a medical professional at the earliest when such unforeseen side effects occur.
How long do Ivermectin side effects last in humans?
The effect of Ivermectin stays within the bloodstream for about 12 days after getting administered. However, some side effects of Ivermectin may get resolved on their own and require little to no medical attention. As per the study done by NCBI, some common side effects of Ivermectin may get resolved within 20 to 40 minutes after administration of the antiparasitic drug.
How to treat Ivermectin side effects?
Some of the common side effects of Ivermectin tablets, like headaches, dizziness, or constipation, may require little or no medical attention. However, if the side effects are grave and worsen with time, one should seek emergency medical treatment.
Where can I buy Ivermectin?
Medicines like Ivermectin are pretty popular when it comes to the diagnosis of parasitic diseases like scabies or river blindness. One can buy such medication from a nearby pharmacy or order the Ivermectin tablets from an online medical store at the person's convenience.
However, taking the preventive measure of buying Ivermectin through a valid prescription can help reduce the risk of medical complications.

Ivermectin tablet price: The Ivermectin tablet's price can differ according to the place where you purchase the medication. One can buy Ivermectin tablets from our online pharmacy, available under the following name:
Ivecop 3 Mg Tablet
Iverkind 12 Tablet DT
Ivecop 6 Mg Tablet
Ivecop 12 Mg Tablet
Consult a medical expert before taking any form of antiparasitic medication. Knowing which medication will prove to be more effective for you depends on the type of diagnosed parasitic infection.
Some people often experience confusion in terms of medication and its active ingredients. Some may consider Ivermectin and Ivermectol to be different, but there is hardly any difference.
Ivermectin online price: Through an online medical store, one can buy Ivermectin tablets with maximum ease. Therefore, to buy Ivermectin tablets (Ivecop) online from our medical store at the best possible prices, click here.
(Ivermectin for sale): Whether it is a nearby pharmaceutical store or an online drug store, one would always need a prescription to buy Ivermectin tablets. To know more about Ivermectin for sale, you can read the following article.
Also Read: Ivermectin for Sale: How to Buy the Tablets?
Warning and precautions for Ivermectin tablets
Before taking Ivermectin tablets, let your doctor know about your complete medical history. Some of the precautionary measures that one should take before administering Ivermectin are as follows.
Avoid taking Ivermectin tablets if you are allergic to any chemical compound that might be present in the medicine.
Let your health care professional know about the medicines you might be taking to avoid the possibility of any drug reaction.
Before taking medicine, let your doctor know if you have any pre-existing medical conditions like Meningitis, African trypanosomiasis, or Human immunodeficiency virus.
Consult your general physician to know the risk and benefits of taking Ivermectin during pregnancy.
Antiparasitic tablets can make you dizzy. In the case of Ivermectin medication, avoid taking alcohol or any other illicit drug like marijuana.
Avoid taking Ivermectin if you have a history of liver problems. In such a case taking Ivermectin will do more harm to the liver.
How to store Ivermectin tablets?
A temperature below 30 degrees C (86 degrees F) is preferable to store Ivermectin tablets. Such tablets should always be stored in a cool and dry place, away from direct sunlight and moisture. Keep Ivermectin medication away from the reach of children and pets. In case the tablets expire, one should properly dispose of the medicine.
Manufacturers of Ivermectin Tablets
Tablets like Ivermectin are available all around the world. Under the following brand names, one can buy Ivermectin tablets in the United States:
Sklice
Stromectol
Soolantra
On our online medical store, Fordailymedicine.com, you can buy Ivermectin tablets under the name of Ivecop and Iverkind.
Does Ivermectin cause infertility?
Research is not clear yet whether the administration of Ivermectin can cause infertility in people or not. In 2021, a study concluded that Ivermectin could cause male infertility. But the findings of such research were flawed and based on a small sample.
Infertility is not a known side effect of Ivermectin, as stated by the U.S Food and Drug Administration. FDA labels do not state infertility as a side effect of Ivermectin medication. Hence, to learn more about the correlation between Ivermectin and infertility, click here.